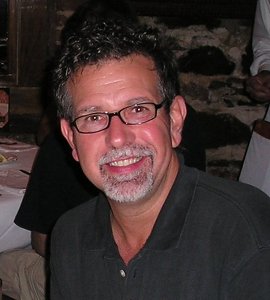 What do hair, canvas, and paint have in common? If one asks hair designer Milton Miles of Florence, SC, his reply is "potential for creativity." His artistic everyday talent with hair has exceeded 20+ years at Panache Creative Hair Salon. Hair has been Milton's canvas on a daily basis whether it is curled, cut, or colored. Having always been artistic with pencil and paper, extending his adventurous nature with paint on larger artist's canvas seemed logical to Milton. Because of his passion for creativity and painting, whether oil or acrylic, and paint brush or palette knife, Milton has created many different works of art that speak its own language with magnificent color and texture!
With desire to add his personal flair to the world of design, Milton had an epiphany to use his art in a new and fresh way. Thus, "shades" was born....Milton's art variations reproduced on 6 panel and drum shades of different sizes. Milton thinks of his shades as functional art with added "funk." A compliment to any room and décor - "firecrackers" that set off any style. The shades may be purchased individually and used on one's existing lamp base, or entire lamps with his colorful patterns and designs are also available. The ''shades'' and lamps may be purchased at Panache Creative Hair Salon, 1810 2nd Loop Rd. or Porter's Gift Shop beside Redbone Alley Restaurant, Florence Mall, both in Florence, SC. With plans to move his lamps and ''shades'' designs to venues in other cities, Milton is looking forward to what the future has in store for his art.
Thank you for stopping by my website, Olive Hue Originals, and I hope you enjoy the artwork. There are many pages and categories for you to view. Please come back often as new designs of ''shades'' and giclees of art pieces that are not currently for sale, will be available soon!
-Milton Miles
*Please Note: All images and artwork on this website are trademarked and copyright protected. No person may copy or reproduce any images, art work, lampshade designs, etc. without written permission from the artist, Milton Miles.
Also, please understand that larger pieces of artwork may require special shipping and handling depending on the size of the painting. **Any extra cost of shipping will be the responsibility of the buyer. These special arrangements for the artwork's shipping charges can be discussed by phone or email prior to shipping.